So the past two days I have been scouring the internet for recipes and researching ingredients and chemicals. Its true that we don't know the effects of many chemicals but some chemicals, such as the preservative potassium sorbate are not harmful at all.
While researching chemicals and ingredients to make my own foundation and concealer, I came across a few ingredients used in cosmetics or skincare that (upon further research into the process of making the chemical) are derived from soy or wheat.

You will use glycerin for everything.
If you're thinking about making your own lotions, shampoos or cosmetics, glycerin is a must-have product. It is a humectant and pulls in moisture from the air, keeping your skin soft and supple. It feels tacky on the skin when used in full amount. It took me awhile to find a soy-free version and alas, the battle was won; Starwest Botanicals, whom I called to find out their source is currently getting their glycerin from palm and non-GMO canola. As with all ingredients, always call the company before you make something to be sure the source has not changed! Since you are the one who suffers, it is up to you to avoid that soy and
always
,
always
call the manufacturer or supplier before buying the product,
even if you've bought it five times.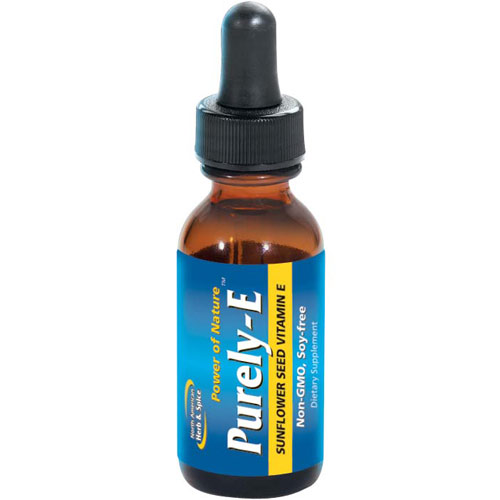 The next product that I felt was a must-have was vitamin E oil. Vitamin E is used as a natural preservative in products, but unfortunately it is
usually soy-derived
. This is why I made it my mission to find it and that I did!
North American Herb and Spice makes Purely-E
from sunflower oil and it is labeled as non-GMO. The ingredients are: sunflower seed, red palm oil, pumpkinseed oil and rosemary oil. I absolutely LOVE this product; not only does it feel amazing directly applied to the face but it also smells so good because of the tiny bit of rosemary.
With all my experimenting, I irritated my mouth and skin and realized
the vitamin A & D capsules from Whole Foods were giving my face a mild rash (probably from the glycerin) even though it claimed itself soy-free. Watch out for that...many companies don't realize or even know the source of their glycerine since they buy it in bulk from other countries since its cheaper.
Using a brow brush (you can buy at Sephora or MAC or buy one similar and much cheaper at any art and craft supply store) I applied the formula which I put into a small plastic container.
Notice the difference of 'with' the brow gel and without.
The next day, I first applied my concealer on and above my brow bone, avoiding the actual eyebrow. I then feathered in my brows using the edge of pointy tweezers...yes, tweezers--and a brow brush to soften. This was the result:
\
I then decided after about four hours, it was time for the gym. I did not touch up my brows at all, nor did I have to. They stayed on pretty well and I was impressed at how fade-proof they were even before my workout.
These are my brows after 30 minutes on the elliptical machine, an hour doing weights, a massage on the gym's hydro massage machine and no touching up whatsoever. Pretty impressive, eh? Well guess what?
I'm giving you the recipe.
So the first thing I did besides buying the glycerine and vitamin E, was try to find a natural food coloring and in desperation for instant satisfaction, I bought this at Whole Foods. I'm not going to lie, it is expensive at about $25 but I read online that when taken daily, it lowers blood pressure (which applies to people in my house, so they can drink it in case it doesn't work for my intended use) and it has also increased stamina in runners trying to cross the finish line...so I thought, "Hey, maybe this will work for my energy levels, too!" I also was sold on the fact that it is USDA Certified Organic and
so red.
So I broke down and bought it. I experimented and found it is extremely soluble in water with no other added ingredients besides the beet root crystals.
Whenever you use water in a product, it has to be distilled. This removes all bacteria, parasites and yucky stuff you don't want growing in your product. Since I am my most productive at night, I took a trip to the 24 hr Pathmark nearby for DISTILLED Poland Spring Water. And no, you can't make distilled water at home. I checked. Its a whole process of condensing the water and collecting the beads that form from the evaporation process...
So I mixed a couple of tablespoons of water with one teaspoon of the beet juice crystals in a mug aaaaand, voila! Bloody red natural coloring perfection.
Another option is to buy oil soluble natural coloring. If you were making a powder or using some kind of emulsifier (needed for liquid products like foundations or lotions) then you could actually use hibiscus powder or
beet juice powder
.
Why do I need red for a brow liner?
Because the richest, most beautiful browns in existence have some red in them! Makeup-artists know this and usually use two colors for brows when applying makeup because of this very reason.
Here is my recipe for homemade brow gel.
Warm Brown Brow Gel Liner
1 tsp beet juice (from above)
1 tsp cocoa powder
a dash of USDA Organic turmeric
3 drops soy-free vegetable glycerin
3 drops Purely-E
Start with the wet products and mix in the powders and lastly, the juice until the texture is uniform and consistent. This will give you about 6 months worth of product, which honestly only keeps for two weeks in the fridge, unless you use a good percentage of preservative, which I have yet to figure out...
You can imagine how much money and sanity doing this every month will save! DIY cosmetics and homemade makeup might take some experimenting, but as you can see is
totally
worth it. No more having to deal with soybean oil or stearic acid (from soy) in the ingredients! If you're allergic to dimethicone, too, like me, this is the perfect alternative.